Book: Growing Roses by Paul Hains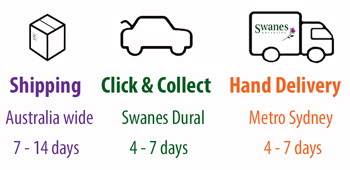 Swane's Nurseries recommend this book to all novice and experienced rose enthusiasts.
Swane's Nurseries recommend this book to all novice and experienced rose enthusiasts. This new book is simply "Growing Roses" and provides advice on rose growing for temperate, cold, subtropical, and tropical climates.
After the success of the book "Growing Roses in Subtropical Climates" it was time to look at reprinting. Instead, there was an opportunity to take the same simple, plain English advice and provide it for all climates. It has new chapters, a new look, and lots of photos of gardens and roses for inspiration. This book is 224 pages and covers everything you could need to know about growing roses from how to prune to how to breed your own new varieties.
Most of the available books on roses are quite complex in nature and are great if you are a horticulturalist, but difficult for everyone else to read. "Growing Roses" will change gardener's views on growing our favourite flower. No longer should they be treated as some mysterious plant that must have ultra-special care that can only be guided by those who have been growing them for 50 years. Every gardener can grow a rose with some sound advice.
The author, Paul Hains, regularly speaks on rose growing and has been invited to speak at events around the world. He is Vice President of the World Federation of Rose Societies, Past President of the National Rose Society of Australia, and President of the Queensland Rose Society. In "Growing Roses" he encapsulates the knowledge learned from rose society members worldwide to provide advice for home gardeners. The photographs Paul has taken for the book include many from gardens he has visited in Europe, Asia, the USA, and Australia demonstrating different rose growing climates.