Fragrant Cloud Potted Rose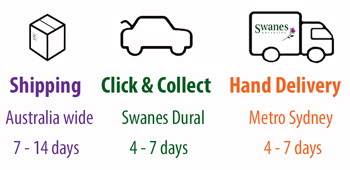 NOTE: Potted plants can not be sent to NT, WA & TAS addresses due to quarantine restrictions.
Fragrant Cloud. An incredibly fragrant rose that has become popular for it's bright coral to watermelon colouring as well as its scent. There is very little fading on these large, well-formed flowers. They grow on a vigorous bush with glossy green foliage and make an excellent rose for bedding or borders.
Pot Size: 200mm / 20cm
Beautifully formed, free flowering and wonderfully fragrant.
Known at Swane's Nurseries for being extremely fragrant with a coral red/pink reminiscent of watermelon.
More Information

| | |
| --- | --- |
| Rose Category | Hybrid Tea |
| Breeder | Tantau |
| Breeder Code | TANellis 1963 |
| Colour | Orange, Pink |
| Colour | Coral pink. |
| Fragrance | Intense * * * |
| Fragrance | Intense old rose. |
| Parentage | Prima Ballerina × Montezuma |
| Disease Resistance | Good |
| Height | 170cm |
| Foliage | Glossy dark green. |
| Flower Size | Approx. 110mm |
| Petal Count | 25-35 |