Abracadabra Mini Standard Potted Rose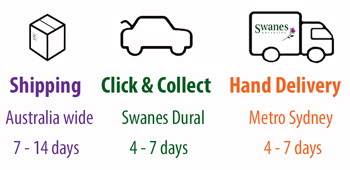 Abracadabra. Just like magic. Everyone is fascinated by the extraordinary and exciting striped colouring of red and yellow, whereby each bloom magically displays its own individual colour combination. This novelty variety draws attention in the Swane's rose garden, and wherever it is displayed.
Mini Standards have a 50 -60cm clear stem.
More Information

| | |
| --- | --- |
| Rose Category | Hybrid Tea |
| Breeder | Kordes |
| Breeder Code | KORhoscel |
| Colour | Red striped yellow |
| Fragrance | Nil |
| Awards | Passed Swane's arduous evaluations |
| Parentage | Sport of Frisco |
| Disease Resistance | good |
| Height | 50-60cm clear stem |
| Foliage | Glossy dark green |
| Flower Size | Approx 100mm |
| Pot Size | 200mm |
| Petal Count | Approx 20 |
| Swane's Says | An interesting addition to floral displays |